The President of the Republic of Tatarstan took an interest in the BRIO MRS mixed reality device for the construction industry during the Kazan Digital Week Forum
04 October 2022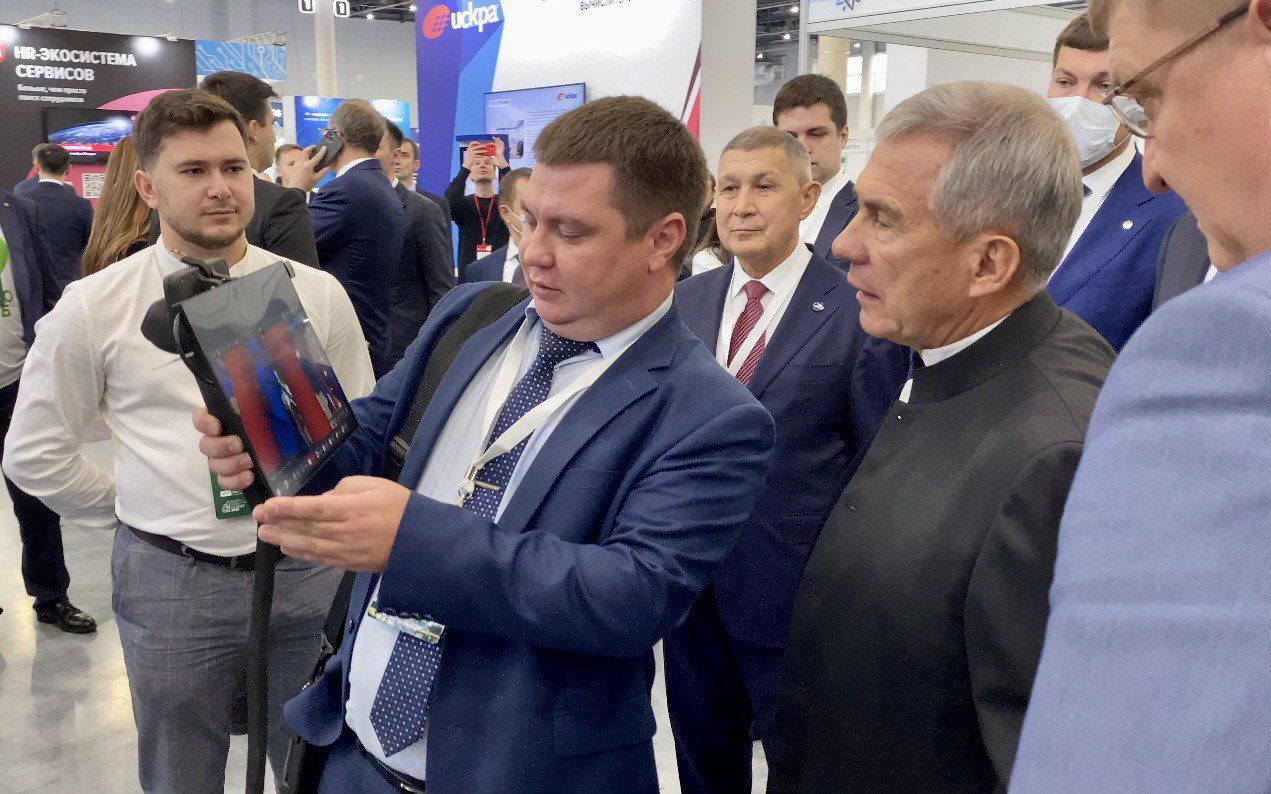 On September 21, on the opening day of the Kazan Digital Week Forum 2022, at the booth of the Ministry of Construction and Architecture of the Republic of Tatarstan, the BRIO MRS company showcased the capabilities of the complex for visualizing three-dimensional digital models of facilities. Using the mixed reality tablet, visitors could see a communication system embedded into the physical environment.
Everyone could temporarily stand in for, specifically, a foreman and see a digital copy of the utility line diagram. Taking a couple of steps forward, turning around, the user could even see the arrangement of internal pipeline systems displayed on the tablet screen. Such a high-tech solution makes it possible to accurately plan construction and installation works, prevent collisions, minimize rework and additional costs, and save developers' financial resources.
The platform is implemented using the following technologies: computer vision (CV), augmented and mixed reality (AR/MR), artificial intelligence (AI). In terms of characteristics, there are no similar products on the market, and in terms of accuracy and stability, the system can compete with Microsoft, Google and Apple solutions.
"Our goal is to tell and make it clear how the use of advanced digital technologies facilitates the process, for example, of construction control," says Aleksey Kislukhin, CEO of BRIO MRS. "We bring the BIM model to the construction site, replacing the 2D drawings with a device in which a three-dimensional digital model of utility systems is visualized. And all this with precise reference to the physical walls of the construction project! The quality and speed of construction and installation works will increase tenfold."
Together with BRIO MRS, representatives of Ak Bars Development and Tatinvestgrazhdanproekt companies participated as members of the joint booth of the Ministry of Construction and Architecture of the Republic of Tatarstan. These companies are already using the BRIO MRS platform in their construction processes.
Having successfully presented its solution at the KDW Forum 2022, BRIO MRS is already preparing to present it at THE BIG 5, the largest international construction industry trade show held in the UAE.